Added on 22/10/2012
The Very Revd Canon Peter O'Reilly, Parish Priest of St Michael's Church Enniskillen, and the Very Revd Kenneth Hall, Dean of Clogher and Rector of St Macartin's Cathedral Enniskillen, attended a reception in BuckinghamPalace during the past week at the invitation of Her Majesty The Queen and the Duke of Edinburgh. The reception was for those who helped organise various events to mark the Queen's Diamond Jubilee included a number of celebrities, including Gary Barlow, who had contributed to the festivities of the Diamond Jubilee weekend itself. Canon O'Reilly and Dean Hall were invited as co–hosts of the Northern Ireland State Service of Thanksgiving to mark the Queen's Diamond Jubilee, which took place in St Macartin's Cathedral in June and was followed by a reception in St Michael's Church.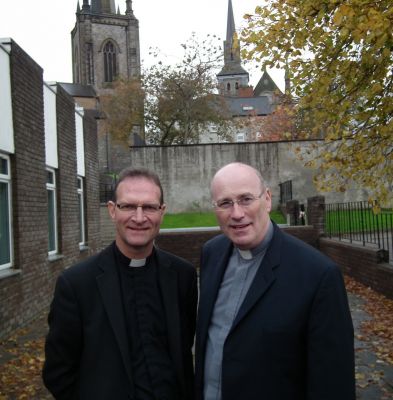 Dean Kenneth Hall and Canon Peter O'Reilly
During their time at the Palace both clergy had the opportunity to speak to Her Majesty at length upon arrival, and again later as part of a small group at the Queen's request. During their engaging conversation with the Queen, Canon O'Reilly and Dean Hall spoke about the impact of Her Majesty's visit to Enniskillen, and how the visit created a pathway in terms of community relations that many have wanted to follow but have not had the confidence to do freely in the past. The Queen's visit to Enniskillen had provided a glimpse of the future, one where people can be together, not necessarily be the same, but together in peace and harmony. They also had the opportunity to talk to other members of the Royal Family, including the Duke of Edinburgh, the Duke of York and Princesses Beatrice and Eugene.
During their time in London, the clergy were followed by an ITN film crew in preparation for a two part series covering the Queen's Diamond Jubilee, they had previously been interviewed for the programme when the Queen and Prince Phillip visited Enniskillen in June.
---
For further information please contact:

Diocesan Office
St Macartin's Cathedral Hall
Hall's Lane
Enniskillen
Co. Fermanagh
BT74 7DR
Tel/Fax: 028 6634 7879
Email: Clogher DCO
Web: www.clogher.anglican.org