Church of Ireland Notes from 'The Irish Times' - Posted on 01/11/2014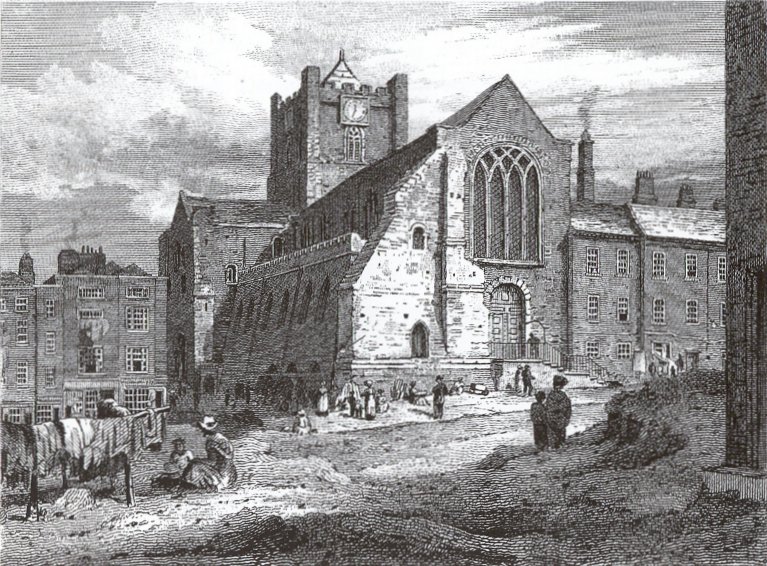 Saturday 1 November 2014
Church of Ireland Historical Society Meets in Dublin
The autumn meeting of the Church of Ireland Historical Society will be held today (Saturday) in the newly refurbished Music Room of Christ Church cathedral, Dublin, beginning with coffee and registration at 10am.
In the morning session Dr Caroline Gallagher will talk about 'First Fruits churches and the Diocese of Meath, 1800–23' and she will be followed by Jeffrey Cox, a research student from UCD who will discuss the episcopate of Alexander Craic, 1560–64. After lunch Canon Patrick Comerford, from the Church of Ireland Theological Institute, will speak about 'The Archbishops of Dublin and the Deanery of Penkridge: a medieval peculiar in the Diocese of Lichfield' , and the meeting will conclude with a paper by Dr Martin Maguire, from Dundalk Institute of Technology, on 'Protestant republicans and Revolutionaries, 1912–23'
The Church of Ireland Historical Society meets twice a year: in the Public Library, Armagh, in April, and in Christ Church Cathedral, Dublin, in November. It exists to promote scholarly interest in the history of the Church, and to facilitate publication. Queries may be either addressed to the honorary secretary, Dr Adrian Empey, by email at: secretary.coihs@gmail.com or visit the society's website: www.churchofirelandhist.org
Today (Saturday) churches throughout Ireland are urged to join International Day of Prayer for Climate Justice and anyone who is in Dublin is welcome to join in midday prayers in Christ Church cathedral. In the Gleneagles Hotel, Killarney, Cumann Gaelach na hEaglaise will hold a Reflective Service during the Oireachtas.
Tomorrow morning a service to mark the bi–centenary of All Saints church, Mullingar, will be held at which the preacher will be Lord Eames. Theologian Dr Anne Thurston will speak in the Chapel of Trinity College Dublin, as part of the "By the Book: Literature for Living" series of Michaelmas term addresses at the 10.45am Choral Eucharist. Dr. Thurston will speak about 'Gilead' by Marilynne Robinson. At 2pm the Royal School of Church Music will host a 'Come and Sing Fauré's Requiem' in St Bartholomew's church, Dublin, while in Belfast the Bicentenary Recital Series in St George's church continues with a recital by Will Fox–Roberts (counter tenor) and Emma Gibbons (piano) after Choral Evensong at 5pm.
Next Tuesday a new series of lunchtime lectures begins in Christ Church cathedral, Dublin, Supported by the Friends of Christ Church, 'Introducing Christ Church 2' will begin with a lecture on cathedral architecture by architectural historian, Dr Michael O'Neill, and in the following weeks there will be lectures on monuments, portraits and liturgy. The lectures begin at 1.05pm, end at 1.35pm and are followed by tea, coffee and discussion until 2pm.
On Wednesday Peter Barley will give a lunchtime organ recital in St Mary's cathedral, Limerick, with music by Vierne, Sweeney, Elgar and Wiedermann. Admission is free but there will be a retiring collection in aid of the Companions of St Mary's Cathedral Music.
On Thursday evening at 7pm in Christ Church cathedral, Dublin, there will be a service of remembrance for those who suffered during World War I. Then Cathedral Choir, with the Christ Church Chamber Orchestra will sing Duruflé's Requiem and World War I poetry will be read by Michael Lee. The act of remembrance will be led by the Dean, the Very Revd Dermot Dunne, and the music will be directed by Ian Keatley.
In St Fin Barre's cathedral, Cork, on Friday the centenary of World War I will be marked by the Western Front Association who will host 'An Evening of Remembrance in Music, Song and Story'.
---



Church of Ireland Notes from 'The Irish Times'



---
Other recent Irish Times Notes:
Church of Ireland Notes from 'The Irish Times' - 25/10/2014
Church of Ireland Notes from 'The Irish Times' - 16/10/2014
Church of Ireland Notes from 'The Irish Times' - 11/10/2014
Church of Ireland Notes from 'The Irish Times' - 04/10/2014
Church of Ireland Notes from 'The Irish Times' - 27/09/2014
Church of Ireland Notes from 'The Irish Times' - 30/08/2014
Church of Ireland Notes from 'The Irish Times' - 23/08/2014
Church of Ireland Notes from 'The Irish Times' - 16/08/2014
Church of Ireland Notes from 'The Irish Times' - 09/08/2014
Church of Ireland Notes from 'The Irish Times' - 02/08/2014